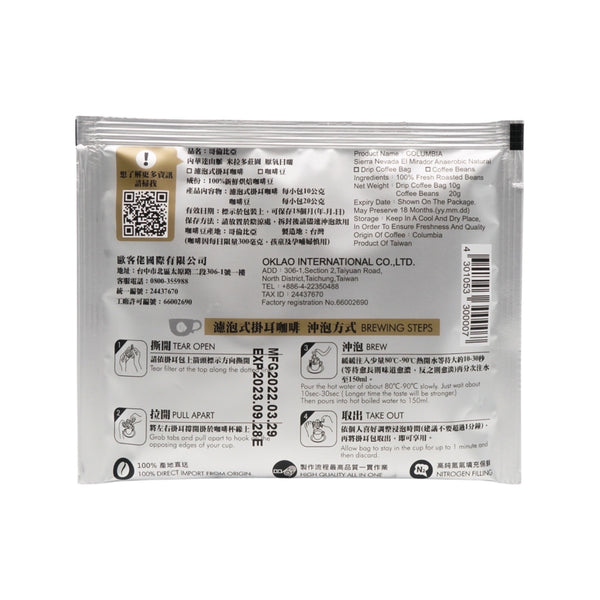 OKLAO -
Delagua Coffee Paradise 

Columbia Sierra Nevada El Mirador Anaerobic Natural - Medium Roast (Drip Coffee Bag x5)

Cupping Note: Mango, Cocoa, Grape, Blueberry, dried berries, dried pineapple, Cherry, Nuts, Cream, Passion fruit, White grape, the balance between sweet and sour.

Process: Anaerobic Natural Process
Roast: Medium Roast

Delagua Coffee Paradise comes from the Sierra Nevada mountain range in Columbia (Sierra Nevada means snow-covered mountain range in Spanish). The peak of the mountain is covered with snow throughout the year. With an altitude of 5700 metres, it is the world's highest mountain range situated beside the ocean and is the source of 36 rivers. 

The owner of the farm, Don Jose, has 25 years of experience in coffee farming. The 3 hectares coffee farm has 9000 coffee trees. The soil is steeped with rich minerals and nutrients, and on top of that, organic fertilizers are used. Don Jose is extremely strict regarding the standards for harvesting, thus the cherries are handpicked.